Welcome to Tsurugi Inc. Online Shop!
We can offer low prices and friendly customer service. All transaction are made via PayPal or Stripe, so we guarantee safe shopping experience with us. Please note, all prices are exclude shipping and handling. We do offer several shipping options, prices are calculated according to the cart weight and each product do have set weight.
For more information please check Shipping & Payment Info also please check Terms & Conditions.
---
Soft99 Extreme Gloss Wax (3 types)
SEW039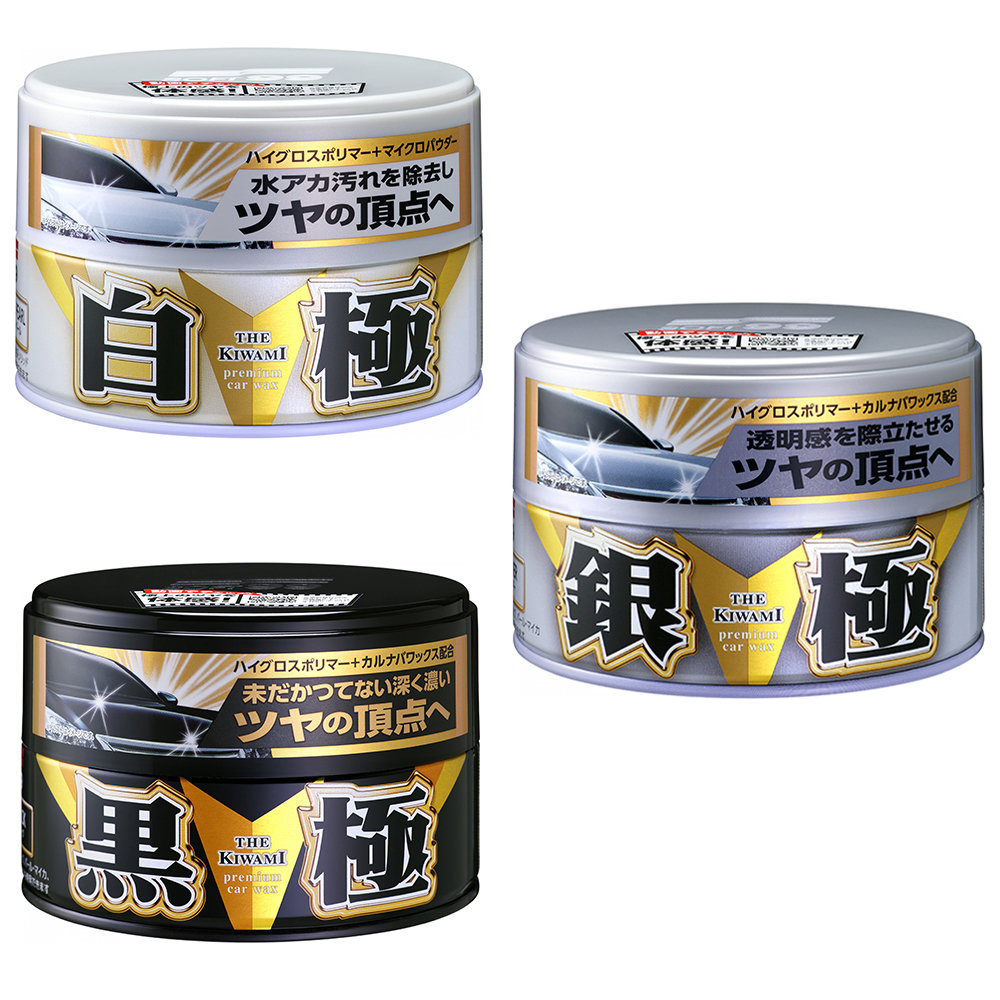 Choose your language: English | Russian
[lang="en"]
Well selected material and state of art chemical technology which achieves excellent glossy finish for catching car user mind.
Excellent durability, keep the car shine up to 3 months.
Directions to use
* Make sure that your car color is compatible with product.
1. Wash off any sand, dust, dirt or any remaining water drops in advance.
2. Take a moderate amount of the wax and spread it evenly onto car's body using the included sponge.
3. After the surface gets dry (5-10 minutes in 20℃), wipe off with a soft clean towel.
* We recommend you do this process panel by panel (e.g. hood, door, roof, etc.) especially in the summer.
* Drying time may be longer in cold temperature.
---
[/lang]
[lang="ru"]
Полироль для кузова Soft99 Extreme Gloss Wax
KIWAMI Extreme Gloss Wax – новая разработка компании, которая показывает состояние современных технологий в области твердых восков.
Этот продукт сочетает в себе стойкий глянцевый полимер и натуральный воск карнауба, которые обеспечивают хороший баланс между достойной прочностью и первоклассным блеском. Наличие натурального воска карнауба максимально упрощает процесс нанесения состава, а наличие полимеров препятствует образованию водного камня на поверхности автомобиля.
Способ применения:
Убедитесь, что цвет вашего автомобиля подходит для данного средства;
Тщательно вымойте и высушите обрабатываемую поверхность автомобиля;
Губку, которая прилагается к продукту, необходимо смочить водой и досуха отжать, затем набрать ею некоторое количество воска круговыми движениями без давления;
Равномерно распределите продукт по поверхности и оставьте для подсыхания;
После подсыхания поверхности (5-10 мин. в летнее время, 15-20 мин. в зимнее время), располируйте мягкой микрофибровой ветошью;
*Убедитесь, что поверхность не содержит остатков пасты и тщательно обработана во избежаниии появления пигментных пятен.
[/lang]
Product Region:Japan
Contents:200g
Handling Time:1 day
Type
WHITE Soft Paste Wax (0) SILVER Hard Wax (0) BLACK Hard Wax (0)