Welcome to Tsurugi Inc. Online Shop!
We can offer low prices and friendly customer service. All transaction are made via PayPal or Stripe, so we guarantee safe shopping experience with us. Please note, all prices are exclude shipping and handling. We do offer several shipping options, prices are calculated according to the cart weight and each product do have set weight.
For more information please check Shipping & Payment Info also please check Terms & Conditions.
---
Soft99 Surface Smoother Mini
SEC075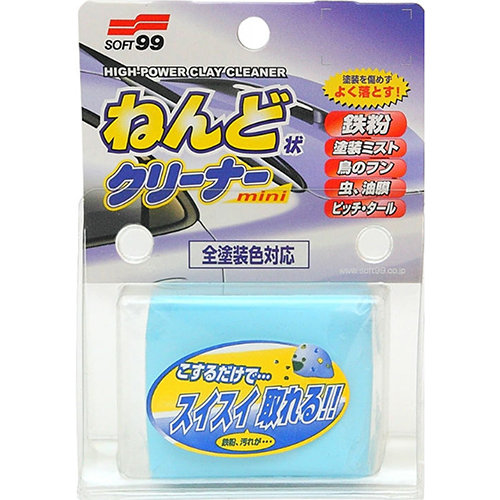 Choose your language: English / Russian [lang="en"]
Removing iron powder, paint mist or pitch tar without damaging car paint, it restores smooth surface. It brings out its effect especially when you use it before applying wax or coating. This product is compatible with any color.
Directions to use
1. Wash down the car before use to remove sand or dirt.
2. Rub lightly on the car body, wetting the area being cleaned.
3. If the surface of the clay cleaner gets dirty, refold it and continue to use a clean surface as needed.
[/lang]
[lang="ru"]
Абразивная глина для очистки кузова
Легко удаляет вбитую в лакокрасочное покрытие металлическую пыль, останки насекомых, напыл краски, гудрон и другие загрязнения, не царапая кузов автомобиля. Отлично очищает от трудно удаляемых загрязнений, не повреждая окрашенную поверхность. Более эластичная, чем другая абразивная глина, что упрощает её использование. Использование глины является неотъемлемым этапом предварительной подготовки поверхности автомобиля к абразивной или защитной полировке кузова, а также к нанесению жидкого стекла.
Отлично очищает от трудно удаляемых загрязнений
Предназначена для предварительной подготовки кузова к абразивной или защитной полировке
Эластичная, удобная в применении
Подходит для автомобилей всех цветов
Способ применения
Очистите кузов автомобиля от пыли и грязи.
Слегка потрите глиной загрязненные места, поливая кузов водой.
При загрязнении поверхности глины заверните ее вовнутрь и используйте чистую сторону.
После использования данного средства рекомендуется нанести на кузов полироль или средство, создающее защитную пленку.
[/lang]
Product Region:Japan
Contents:100g
Handling Time:1 day