Welcome to Tsurugi Inc. Online Shop!
We can offer low prices and friendly customer service. All transaction are made via PayPal or Stripe, so we guarantee safe shopping experience with us. Please note, all prices are exclude shipping and handling. We do offer several shipping options, prices are calculated according to the cart weight and each product do have set weight.
For more information please check Shipping & Payment Info also please check Terms & Conditions.
---
Soft99 Cloth Barrier Fabric Seat Coat
SIS021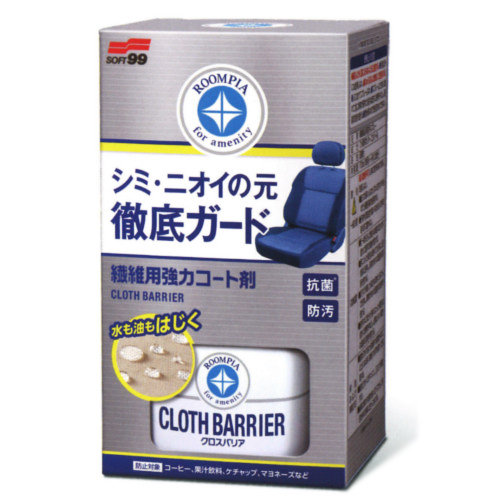 ---
This is coated agent for prevent fabric seat from dirt. Just spray and spread with sponge, special fluorine (fusso) polymer creates the layer. It can protect not only for water based stain but also oily stain the main cause of stain or odor.
This high abrasion resistance works approx 3 months*.
* Test by SOFT99, the effect is changed depending on condition.
Directions to use
* In case of the seat gets dirty, wipe with wrung towel and dry for a while. (Do not use cleaner.)
* If low temperature below 10℃, warm the inside of car by air conditioner in advance.
1. Shake the bottle well and turn the trigger.
2. Spray 20cm away from fabric seat, moisten entirely. To prevent unevenness, extend with included sponge.
* Moderate amount for 1 seat is 12-15 shots.
* Wipe off with towel immediately when adhere expecting for seat.
3. Enough to dry. (In summer: 2 hours, In winter: 4 hours)
* If you spray too much, it may take long time for dry. In this case dry with dryer. (beware not to damaged material.)
* In case of attached dirt, do not leave, wipe off immediately.
* If you use repeatedly, enhance anti-foul effect. Recommend to use once in 3 months.
---
Product Region:Japan
Contents:170 ml, Sponge: 1pc
Handling Time:1 day