Welcome to Tsurugi Inc. Online Shop!
We can offer low prices and friendly customer service. All transaction are made via PayPal or Stripe, so we guarantee safe shopping experience with us. Please note, all prices are exclude shipping and handling. We do offer several shipping options, prices are calculated according to the cart weight and each product do have set weight.
For more information please check Shipping & Payment Info also please check Terms & Conditions.
---
Soft99 Fabric Seat Spot Remover
SIS022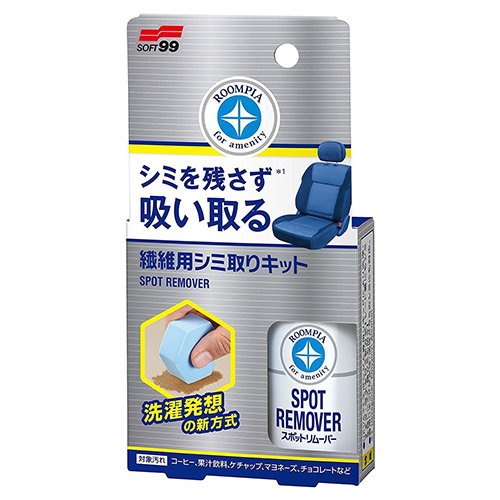 ---
Stain remover kit for fabric seat which is effective for stubborn stain. "Wash"→"Rinse"→"Absorb" this procedure can remove stain using with exclusive liquid and HPVA sponge.
It corresponds to various kind of stain. Available for 30 times when use for penny size stain.
* HPVA=Hexagonal Polyvinyl Alcohol
Directions to use
1. Soak the sponge with water to be soften, wring the sponge lightly to leave the water a little before use.
2. Shake the bottle well and put 5 drops to one surface of sponge.
3 .Press with tapping the surface from out side of stain toward to center. (to prevent making stain spot)
4 .Repeat step 3 with other unused sponge surface. It is effective to tap strong.
5 .After wringing sponge, absorb the sponge wide surface to absorb the water component which remains on fabric.
*If remain stain, repeat above procedure.
---
Product Region:Japan
Contents:20mL, HPVA Sponge: 1pc
Handling Time:1 day