Welcome to Tsurugi Inc. Online Shop!
We can offer low prices and friendly customer service. All transaction are made via PayPal or Stripe, so we guarantee safe shopping experience with us. Please note, all prices are exclude shipping and handling. We do offer several shipping options, prices are calculated according to the cart weight and each product do have set weight.
For more information please check Shipping & Payment Info also please check Terms & Conditions.
---
Carall Nano Air Car Fragrance (2 color)
CIS002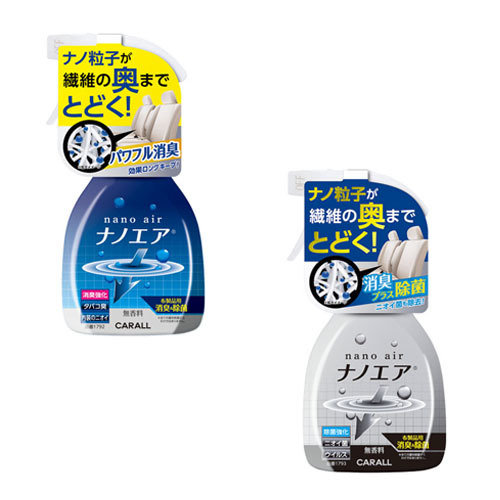 Choose your language: English / Russian
[lang="en"]
Nano particles reach far in the fiber!
The deodorant and sterilizing ingredients of the nano particles decompose malodorous, bacteria, viruses, body odors and manure odors of the pets lurking behind the fiber!
Firmly deodorizing and eliminating bacteria originally unreachable!
It can be used for textile products such as sheets and mats.
Popular non-fragrance type!
Deodorant reinforcement!
Enhanced bacteria removal!
For Car or Home Use!
Blue – prevent tobacco smell or any disturbing smell in your car or home. Very powerful against the smell.
Gray – prevent your car or home environment against bacteria or virus, safe for people and animals.
[/lang]
[lang="ru"]
Нейтрализатор запахов в автомобиле Carall Nano Air Car Fragrance
Назначение:
удаляет неприятные запахи в салоне автомобиля, в том числе запахи домашних животных.
действует в течение продолжительного времени.
удаляет запахи за счет наночастиц которые проникают в волокна ткани.
дезинфицирует обрабатываемую поверхность.
Синий – предотвращает запах табака или любой неприятный запах.
Серый – действует против бактерий или вирусов.
Способ применения:
поверните головку распылителя в положение «ON».
распылите состав на расстоянии 20 – 30 см от обрабатываемой поверхности.
хорошо просушите обработанные участки.
Меры предосторожности:
предварительно протестируйте средство на незаметном участке.
не применять на людях, домашних животных, не принимать внутрь!
при контакте с кожей возможно появление сыпи.
не использовать для деликатных тканей, кожи, меха, пластика.
использовать в хорошо проветриваемом помещении.
[/lang]
Product Region:Japan
Contents:250ml
Handling Time:1 day