Welcome to Tsurugi Inc. Online Shop!
We can offer low prices and friendly customer service. All transaction are made via PayPal or Stripe, so we guarantee safe shopping experience with us. Please note, all prices are exclude shipping and handling. We do offer several shipping options, prices are calculated according to the cart weight and each product do have set weight.
For more information please check Shipping & Payment Info also please check Terms & Conditions.
---
Soft99 Fusso Coat Mirror Shine (2 types)
SEA066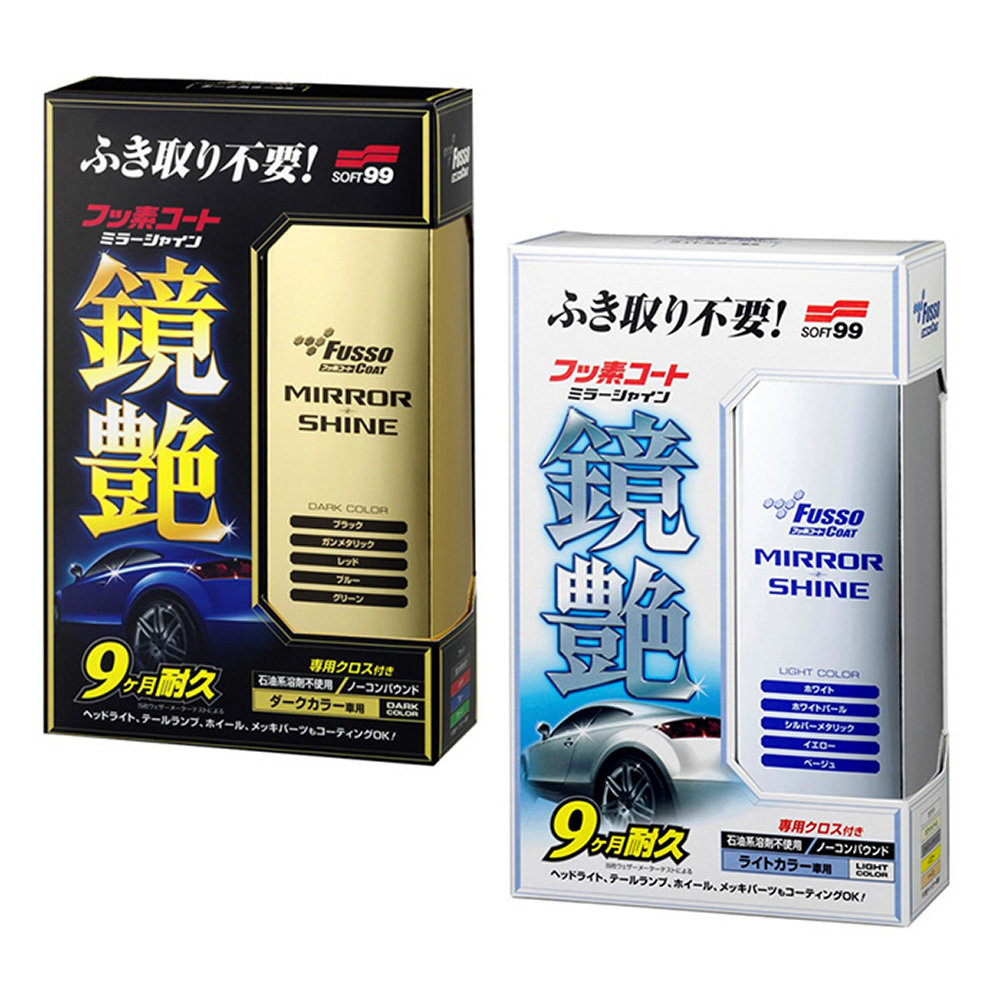 Choose your language: English | Russian
[lang="en"]
All you need to do is put the liquid on the included microfiber cloth and spread it evenly. Wiping off is NOT necessary!!! The effects of duration and antifouling last up to 9 months. It repels water and oil.
Applying on a deteriorated surface will bring out the shine and strength in the car's paint. Petroleum solvent and abrasive compound are NOT included!
Directions to use
* Wipe off dirt marks and remove water drops remaining on the surface.
1. Shake the bottle well and put the liquid on the included cloth.
2. Spread it on the car surface as evenly as possible. Drying or wiping off is NOT necessary!
[/lang]
[lang="ru"]
Покрытие для придания блеска кузову автомобиля Soft99 Extreme Gloss Wax
Отличительная особенность этого покрытия – неповторимый зеркальный блеск и простота нанесения. При этом Fusso Coat Mirror Shine надёжно защитит корпус автомобиля, как и любое средство Fusso. Можно наносить также на оптику, колёса и металлические части.
Придаёт неповторимый зеркальный блеск
Защищает кузов от негативных факторов
Прост в нанесении, не требует располировки
Подходит для обработки оптики, колёс, металлических и пластиковых (в т.ч. неокрашенных) деталей
Продолжительность эффекта – до 9 месяцев
Способ применения
Помойте автомобиль, удалите воду.
Встряхните флакон и с помощью входящей в набор салфетки нанесите полироль на корпус автомобиля.
Полироль достаточно просто нанести! Поверхность не нужно ни вытирать, ни сушить.
Капли полироля диаметром 2 см. достаточно для обработки площади размером 40х40 см. На корпусе образуется особое защитное покрытие.
При повторном нанесении полироля эффект возрастает.
Для того чтобы покрытие стало прочным, должно пройти 24 часа после нанесения. В это время не пользуйтесь моющими средствами для автомобиля (дождь и вода не влияют на эффект полироля).
Не наносите полироль сразу на весь корпус, а обрабатывайте его частями, следя за получаемым эффектом.
[/lang]
Product Region:Japan
Contents:250ml
Handling Time:1 day
Type
Light color car only (0) Dark color car only (0)