Welcome to Tsurugi Inc. Online Shop!
We can offer low prices and friendly customer service. All transaction are made via PayPal or Stripe, so we guarantee safe shopping experience with us. Please note, all prices are exclude shipping and handling. We do offer several shipping options, prices are calculated according to the cart weight and each product do have set weight.
For more information please check Shipping & Payment Info also please check Terms & Conditions.
---
Soft99 Glaco Blave
SGA003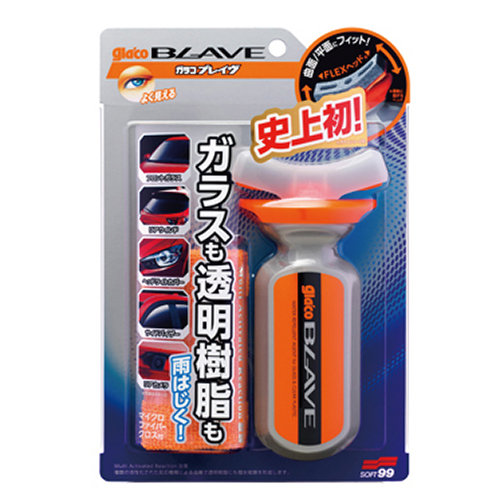 Choose your language: English / Russian
[lang="en"]
The first ever glaco, provide strong water repellent for glass and plastics. Water repellent component links tightly against invisible uneven surface. Produce water repellency not only for glass but also for clear plastics such as headlight cover, side visor, tail lamp cover, helmet shield and goggles. Ensure clear visibility for driver and rider driving in rain.
No need to wait for dry, quick application process. Once apply and wipe, produce water repellent power immediately.
Directions to use
* Rinse off dirt or dust before use.
1. Take off the cap and apply directly. Directly apply because it attaches felt applicator. Quick application without getting dirty your hand.
2. Apply gently full coverage. If remain unevenness area, it cannot produce original performance. Apply firmly without making gap.
3. Immediately wipe off with included towel. (Dry condition)* No need to wait for drying. Wipe off immediately before liquid gets dry.
[/lang]
[lang="ru"]
Водоотталкивающее покрытие для стёкол и пластика "Антидождь"
Первый антидождь, который подходит для нанесения на стекло и пластик.
Обрабатывайте теперь не только стекла, но и фары, ветровики, ходовые огни, защитные очки или щитки мотоциклетных шлемов, камеры заднего и переднего вида. Антидождь очень прост в нанесении: покройте составом необходимую поверхность и тут же разотрите. Больше не нужно ждать высыхания состава.
Продолжительность эффекта – 3 месяца.
Способ применения
Хорошо очистите обрабатываемую поверхность от грязи, пыли и жира. Для наилучшего эффекта обезжирьте поверхность.
Открутите крышку флакона, чтобы открылась полирующая поверхность.
Приложите флакон фетровой поверхностью к стеклу и быстро нанесите средство не допуская пропусков. Сразу же после нанесения полироли разотрите средство сухим полотенцем, которое идет в комплекте.
После нанесения Glaco избегайте использования сильных обезжиривающих средств для стекла.
Для мытья стекол используйте обычную воду.
[/lang]
Product Region:Japan
Contents:70ml
Handling Time:1 day