Welcome to Tsurugi Inc. Online Shop!
We can offer low prices and friendly customer service. All transaction are made via PayPal or Stripe, so we guarantee safe shopping experience with us. Please note, all prices are exclude shipping and handling. We do offer several shipping options, prices are calculated according to the cart weight and each product do have set weight.
For more information please check Shipping & Payment Info also please check Terms & Conditions.
---
Soft99 Glass Stain Cleaner
SGR018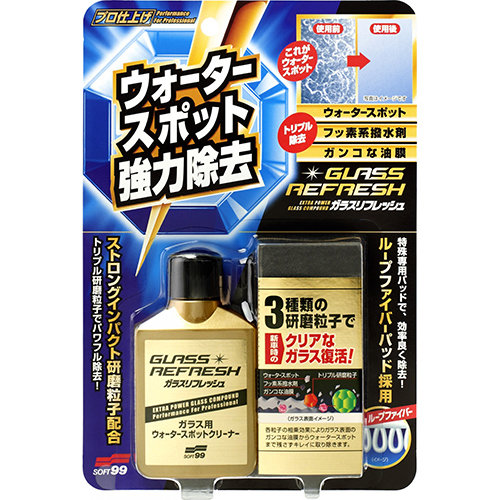 Choose your language: English / Russian
[lang="en"]
Newly developed triple-abrasive particles can get rid of scaly spots which conventional compound cleaners cannot. Furthermore, it removes fluorine and sticky oil-film deposits and restores the car's original glass-like transparency. A special application pad is included.
Directions to use
1. Remove dust and dirt from glass with water, and wipe off any water drops remaining on the surface.
2. Shake the bottle well.
3. Pour liquid on the white side of the pad included, and begin to polish the surface of the glass.
4. Finally, wash the glass cleanly.
[/lang]
[lang="ru"]
Очиститель-полироль для стекол Glass Stain Cleaner
Характеристики:
Специальное средство для глубокой очистки стекол.
Легко и быстро удаляет жировую пленку, остатки насекомых, смолу с деревьев, а также раннее нанесенные покрытия.
Обеспечивает кристальную видимость и прозрачность.
Устраняет шероховатости и неровности, продлевая срок службы стеклоочистителей.
Способ применения:
Перед применением смойте песок и грязь со стекла, протрите поверхность насухо чистым полотенцем или тканью.
Взболтайте флакон, нанесите достаточное количество средства и натирайте поверхность, пока жидкость полностью не разотрется.
После процедуры, вымойте поверхность стекла водой, если остатки средства плохо смываются, удалите его губкой для мытья машин.
Меры предосторожности:
Не используйте средство не по назначению.
Используйте только для поверхности стекла, не наносите на окрашенные поверхности, а также на предметы внутри салона.
Если средство попало на не стеклянную поверхность автомобиля, смойте его водой.
Если средство затвердело, снимите его с помощью полотенца или ткани.
Не используйте средство на жаре и не наносите на горячую поверхность, так как жидкость быстро засыхает и способность нанесения сильно ухудшается.
Не оставляйте средство нанесенным и не растертым по поверхности надолго.
Не наносите на тканевые поверхности, так как могут остаться пятна.
[/lang]
Product Region:Japan
Contents:80ml Pad×1
Handling Time:1 day