Welcome to Tsurugi Inc. Online Shop!
We can offer low prices and friendly customer service. All transaction are made via PayPal or Stripe, so we guarantee safe shopping experience with us. Please note, all prices are exclude shipping and handling. We do offer several shipping options, prices are calculated according to the cart weight and each product do have set weight.
For more information please check Shipping & Payment Info also please check Terms & Conditions.
---
Soft99 Hard Coat For Tire "Black Black"
STT027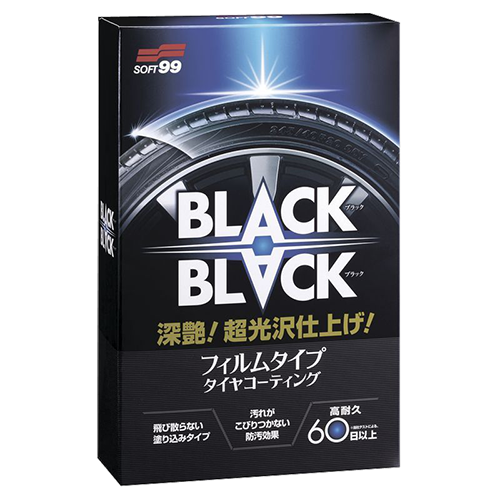 Choose your language: English | Russian
[lang="en"]
BLACK CLACK creates a thick-film coating on tires and maximizes shine along with super durability. The non-sticky, hard coating prevents dirt from adhering, which helps your car maintain ideal conditions by simply washing. The coating lasts for more than 60 days, and this rubbing type does not splatter over other parts.
Directions to use
* Be sure to wear protective gloves.
* If the tire is very dirty, remove unwanted residue in advance.
* Do not use this product on wet tires.
1. Shake the bottle well and put the liquid on the black side of the included sponge. Allow enough of the liquid to soak thoroughly into the sponge.
2. Start applying this from the upper side or right or left side and spread it over the whole tire. Apply repeatedly until the desired level of gloss is present, while being careful about any unevenness.
3. Dry for approximately 5-10 minutes after applying.
* If the liquid gets into unwanted parts, wipe it off immediately with a clean towel or SOFT99 Silicone Off (sold separately).
[/lang]
[lang="ru"]
Покрытие для шин Soft99 Hard Coat For Tire "Black Black"
Создаёт на шинах тонкую плёнку, которая придаёт нежирный блеск, глубокий чёрный цвет и водоотталкивающий эффект. Отталкивает пыль и увеличивает срок службы шин.
Создаёт стойкий водоотталкивающий эффект
Придаёт шинам стойкий нежирный блеск и глубокий чёрный цвет
Продолжительность эффекта — до 60 дней.
Способ применения
Помойте и высушите шины.
Перед применением хорошо встряхните бутылку, затем нанесите средство на черную сторону губки, прилагаемой к этому средству так, чтобы губка полностью пропиталась жидкостью.
Чтобы жидкость не попала на колесные диски, начинайте ее наносить сбоку или снизу шины, и так равномерно наносите по всей поверхности шины.
Следите за тем, чтобы не осталось необработанных участков, наносите до появления блеска, если нужно повторите обработку.
Завершив обработку, дайте шинам высохнуть в течение 5-10 минут.
[/lang]
Product Region:Japan
Contents:110ml
Handling Time:1 day