Welcome to Tsurugi Inc. Online Shop!
We can offer low prices and friendly customer service. All transaction are made via PayPal or Stripe, so we guarantee safe shopping experience with us. Please note, all prices are exclude shipping and handling. We do offer several shipping options, prices are calculated according to the cart weight and each product do have set weight.
For more information please check Shipping & Payment Info also please check Terms & Conditions.
---
Soft99 Leather Seat Cleaning Wipe
SIS093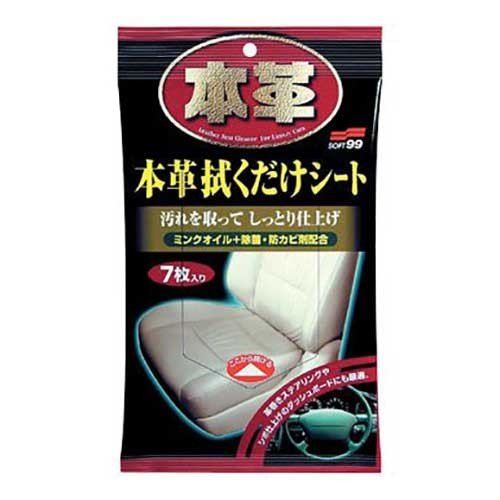 Choose your language: English | Russian
[lang="en"]
Both the cleaning and maintenance will be done at the same time, because the micro fiber of the special sheet can get into minor wrinkles on the leather surface and get rid of dirt and other unwanted residue. Blended mink oil maintains its soft texture and natural shininess. You can also use it on the dashboard. It is a skin-care neutral type.
Directions to use
1. Take out a sheet from the package and wipe on the seat.
2. If it gets dirty or dry, refold it and continue to use a clear surface.
[/lang]
[lang="ru"]
Очищающие салфетки для кожи Soft99 Leather Seat Cleaning Wipe
Очищающие салфетки для кожи от Soft99 восстанавливают первоначальную эластичность кожаных обивок и придают блеск, не делая поверхность жирной.
В очищающих салфетках для кожи от Soft99 используется неагрессивное чистящее средство, которое деликатно удаляют грязь с поверхности кожи. Масло норки увлажняет кожу. Регулярная обработка предотвращает появление складок и плесени на коже.
Отлично очищают от трудноудаляемых загрязнений
При обработке пропитывают поверхность маслом норки
Не сушат кожу рук
Можно использовать на приборной панели
[/lang]
Product Region:Japan
Contents:7 sheets (250×200mm)
Handling Time:1 day