Soft99 Polyester Body Putty Dark
SCP158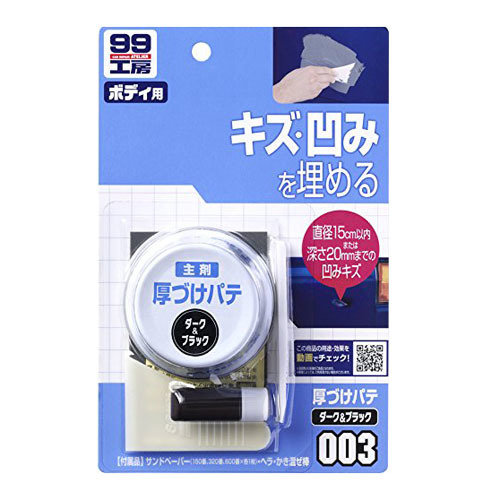 ---
You can fill even the biggest dent or scratches with this Polyester Body Putty. Spatula, mixing stick, hardener, and sandpaper are included.
Directions to use
1. Remove oil, rust, or paint from the area being repaired with the 150-grit sandpaper and Atelier 99 Silicone Off (sold separately).
2. Pour all of the hardener into the main agent and mix it with the included spurtle quickly. Afterward, it will react and start hardening.
3. Apply the putty on the area being repaired with the included spatula. The putty takes about 1 hour to harden. After it hardens, finish up with sandpaper (320-grit -> 600-grit) and Atelier 99 Body Paint.
Product Region:Japan
Contents:Putty: 80g Hardener: 3g
Handling Time:5 days