Welcome to Tsurugi Inc. Online Shop!
We can offer low prices and friendly customer service. All transaction are made via PayPal or Stripe, so we guarantee safe shopping experience with us. Please note, all prices are exclude shipping and handling. We do offer several shipping options, prices are calculated according to the cart weight and each product do have set weight.
For more information please check Shipping & Payment Info also please check Terms & Conditions.
---
Soft99 Wheel Cleaning Wipe
STL086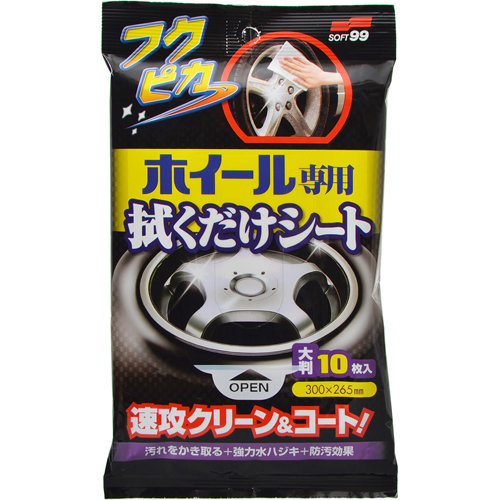 ---
By just wiping, it efficiently removes brake dust or unwanted oil and residue from the wheels. Unlike the spray type, it does not splatter; therefore it can achieve the same beautiful, clean result much more quickly. You can use it on a wide range of materials. It does not damage the sensitive material of the aluminum wheel because abrasive compounds are not included. It repels water and residue from the wheel maintaining a beautiful result. The neutral type cleanser is friendly to your skin and hands.
Directions to use
1. Take out a sheet from the package.
2. Rather than rubbing with force, wipe softly. If there is still any unwanted residue remaining, wipe as needed until desired effect is reached.
3. If the sheet becomes dirty, refold and reuse it cleaning the surface as needed.
Product Region:Japan
Contents:10 sheets
Handling Time:5 days