Welcome to Tsurugi Inc. Online Shop!
We can offer low prices and friendly customer service. All transaction are made via PayPal or Stripe, so we guarantee safe shopping experience with us. Please note, all prices are exclude shipping and handling. We do offer several shipping options, prices are calculated according to the cart weight and each product do have set weight.
For more information please check Shipping & Payment Info also please check Terms & Conditions.
---
Hikari Blackstar
HEA005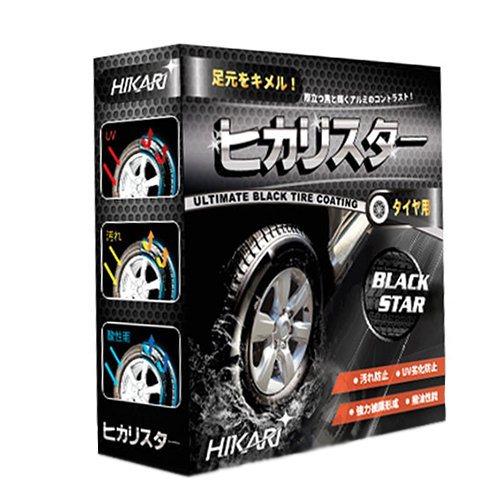 ---
Properties
Strong CoatSilicone gives a strong coat that follows the movement of the tires and does not run in rain or when washed.
UV ProtectionSpecial formula protects the tires from UV rays, preventing cracks and color fading.
Special Oil CompoundWater and oil repellent oil penetrates through to the inside of the tires and prevents stains.
Great ShineGet back the original shine of your tires.
Long lasting3 months, 3000 km!
Pro Spec
Black sheen
Water repellent
Oil repellent
Stain repellent
Unaffected by UV rays
Strong coat
How to Use
Clean the dirt from the tires using a suitable tire cleaner or shampoo.
Remove all moisture from the tire and ensure the tire is dry.
Using the sponge from the set, apply an even coat onto the side of the tire and leave to dry.
Apply a second coating to the tire once the first has fully dried.
Product Region:Japan
Handling Time:3 days