Welcome to Tsurugi Inc. Online Shop!
We can offer low prices and friendly customer service. All transaction are made via PayPal or Stripe, so we guarantee safe shopping experience with us. Please note, all prices are exclude shipping and handling. We do offer several shipping options, prices are calculated according to the cart weight and each product do have set weight.
For more information please check Shipping & Payment Info also please check Terms & Conditions.
---
Soft99 Glaco Roll On Large
SGA006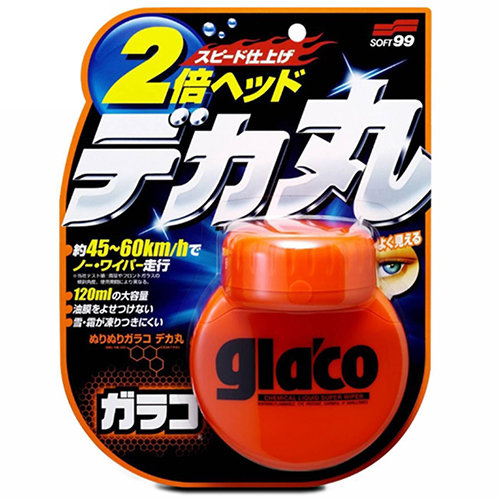 Choose your language: English | Russian
[lang="en"]
The head is twice as big as conventional one, and the bottle is designed to fit in your hand. The combination of those allows speedy and smooth work. The volume is up 60%. Needless to say, it repels water drops while driving at a speed of 45km/h or more, and allows you to have clear vision.
Directions to use
* Remove dust or dirt from the windshield with water in advance.
1. Take the cap off and apply it on a dry windshield. Press the side of the bottle to let the fluid out and rub it firmly onto the windshield without splashing the fluid.
* Do not apply it on wet windshield otherwise it may cause damage to the surface.
2. After drying for 5-10 minutes, wipe it off with a slightly damp towel which is wrung out.
[/lang]
[lang="ru"]
Водоотталкивающее покрытие для стекол "Антидождь" Soft99 Glaco Roll On Large
Придаёт такие же свойства обработанной поверхности, как и Glaco Roll On. Экономичная упаковка большего объема с увеличенной полирующей поверхностью сделает процесс нанесения более легким, позволит сэкономить ваши время и деньги.
Придаёт сильное водоотталкивающее свойство
Действует при скорости более 45 км/ч
Препятствует загрязнению
Увеличенный аппликатор ускоряет процесс обработки поверхности
Удобная ручка упрощает нанесение средств в труднодоступных местах
Используется на лобовом, заднем, боковых стёклах и боковых зеркалах
Продолжительность эффекта – до 3 месяцев
Способ применения
Хорошо очистите стекло от грязи, пыли и жира. Для достижения наилучшего эффекта и глубокой очистки используйте Glaco Glass Compound (SGA008 или SGA012).
Открутите крышку флакона, чтобы открылась полирующая поверхность.
Приложите флакон фетровой поверхностью к стеклу и быстро нанесите средство круговыми движениями радиусом около 10 см.
Нанесите на стекло 2-3 слоя полироля, тщательно растирая, чтобы не появлялось капель. Если вы случайно нанесли слишком много жидкости, и появились капли, не оставляйте их на стекле надолго.
Через 5-10 мин вытрите стекло тщательно выжатым полотенцем.
Если водоотталкивающий эффект оказался слабым, то включите дворники на максимальную частоту, и повторите нанесение. Таким образом, защитная оболочка станет более надежной.
После нанесения Glaco избегайте использования сильных обезжиривающих средств для стекла.
Для мытья стекол используйте обычную воду.
[/lang]
Product Region:Japan
Contents:120ml
Handling Time:1 day