Welcome to Tsurugi Inc. Online Shop!
We can offer low prices and friendly customer service. All transaction are made via PayPal or Stripe, so we guarantee safe shopping experience with us. Please note, all prices are exclude shipping and handling. We do offer several shipping options, prices are calculated according to the cart weight and each product do have set weight.
For more information please check Shipping & Payment Info also please check Terms & Conditions.
---
Soft99 Glass Compound Z
SGR017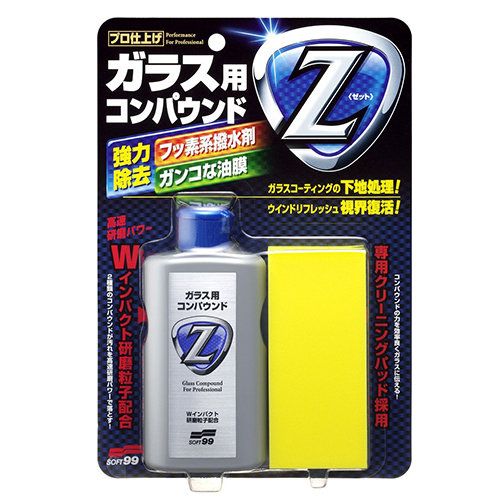 Choose your language: English | Russian
[lang="en"]
Glass Compound Z is made up of tiny, hard and soft abrasive particles which easily break down oily dirt or dirt film from glass. A special application sponge is included.
Directions to use
1. Remove dust and dirt from glass with water, and wipe off any water drops remaining on the surface.
2. Shake the bottle well.
3. Put the liquid on the gray side of the sponge and polish until the surface doesn't repel the liquid anymore.
4. Cleanly wash off the glass surface.
[/lang]
[lang="ru"]
Абразивный полироль для стёкол Soft99 Glass Compound Z
Абразивный полироль для стекла предназначен для очистки стекла и лёгкой шлифовки царапин. Глубоко очищает стекла автомобиля от жирной плёнки и въевшихся загрязнений. Удаляет ранее нанесённые средства, с которыми не могут справиться спиртовые очистители.
Глубоко очищает стёкла автомобиля от жирной плёнки и въевшихся загрязнений
Идеален для подготовки к нанесению водоотталкивающих средств Glaco
Удаляет ранее нанесённые средства, с которыми не могут справиться спиртовые очистители
Предназначен для лёгкой шлифовки царапин
Способ применения
Предварительно удалите пыль и грязь со стекла водой и вытрите насухо.
Хорошо встряхните бутылку.
Нанесите средство на серую сторону прилагающейся губки и полируйте стекло, пока поверхность не перестанет отталкивать жидкость.
Смойте средство со стекла.
[/lang]
Product Region:Japan
Contents:100ml
Handling Time:1 day