Welcome to Tsurugi Inc. Online Shop!
We can offer low prices and friendly customer service. All transaction are made via PayPal or Stripe, so we guarantee safe shopping experience with us. Please note, all prices are exclude shipping and handling. We do offer several shipping options, prices are calculated according to the cart weight and each product do have set weight.
For more information please check Shipping & Payment Info also please check Terms & Conditions.
---
HIKARI Anti Rain
HEA011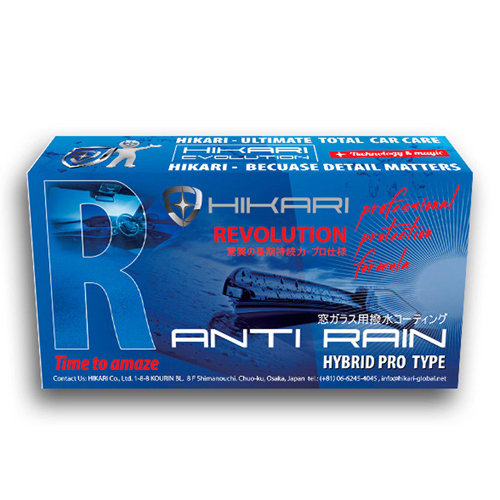 ---
HIKARI ANTI RAIN is a window glass coat with high water repellent and excellent durability. It has excellent wear resistance to withstand friction such as wiper, and it demonstrates performance over a long period of time. At heavy weather the raindrop rolls like glass beads falling on the glass surface. It is also excellent in anti-fouling properties, making the glass hard to get dirty. Rain drops flicker at 60 km/h or more. Prevents poor visibility due to raindrops during heavy rain. Easy wiper resistance reduces chattering. Powerful water repellent coating reduces adhesion of oil film Hybrid of fluorine and silicone, glass surface (Nano-coat), and realized excellent raindrop scattering and durability. Excellent durability. Water repellent effect with water repellent angle of 110°. High wear resistance to withstand friction of the wiper.
Direction to use
STEP 1 → cleaning step
STEP 2 → coating step
STEP 1 cleaning process
1) Cleaning: Remove all sand and dust on the glass surface with shampoo or the like.
2) Oil Film Removal: Wipe off any moisture on the glass surface and attach the glass abrasive to the felt sponge.
* Please do not apply abrasive directly to glass surface.
3) Oil film removal: Spray a small amount of water on the glass surface before polishing the glass.
4) Oil Film Removal: Polish in lateral direction → longitudinal direction and every 50 cm square.
(About 8 divisions with windshield)
5) Cleaning: After polishing, rinse with shampoo.
Note that the abrasive tends to remain on the edge.
6) Check: Check oil film and water repellent.
Polish again where you cannot see hydrophilicity.
Please be careful because there are many polishing left on the end.
STEP 2 Coating process
7) Drying: Wash off the abrasive so that moisture does not remain.
8) Winding the nonwoven fabric around the handle portion of the felt sponge.
(Keep sponge moisture)
* Please be careful not to attach abrasive to nonwoven fabric.
9) Fill in quickly in the horizontal → vertical direction and every 50 cm square.
* Because it is easy to dry, please work quickly.
* Work on the windshield is divided into about 6 divisions.
10) Wipe up: Leave for 5 minutes, wipe it off to a degree that lightly unevenness disappears without applying force with a dry microphone cloth.
* Please do not wipe up with lump and power.
* Please do not work under direct sunlight under sunken sun.
* If the glass surface has heat, please work after cooling.
* When working on the window of the whole car please work one by one.
* If it becomes uneven, wipe gently with a wet cloth and wipe it up with a dry cloth.
* Please do not wet the water for 12 hours after completion of work.
Product Region:Japan
Handling Time:3 days