Welcome to Tsurugi Inc. Online Shop!
We can offer low prices and friendly customer service. All transaction are made via PayPal or Stripe, so we guarantee safe shopping experience with us. Please note, all prices are exclude shipping and handling. We do offer several shipping options, prices are calculated according to the cart weight and each product do have set weight.
For more information please check Shipping & Payment Info also please check Terms & Conditions.
---
Soft99 Refresh Cleaner for Coated Cars
SEC032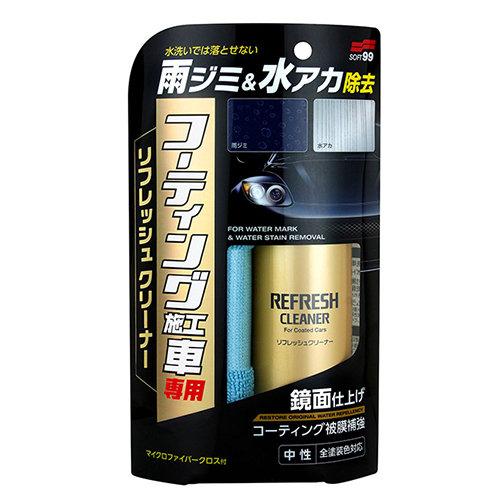 ---
This is water based cleaner for coated cars treated by professional. Mild detergent only removes water stain and water mark which is not harmful for coated cars.
After removing the dirt, creates silicone based resin at the same time. It restore damaged coating layer and produce gloss, water repellency. This product is neutral type, compatible for all colors.
Directions to use
1. Wash off dirt, dust or mud, and wipe off water.
2. Shake the bottle well.
3. Put the coin size liquid onto included towel, and spread as if you rub the surface.
* Apply by each panel such as bonnet, door.
* If there is heavily dirt area, put the liquid more.
4. Change the towel surface to prevent unevenness.
Product Region:Japan
Contents:180ml, Microfiber wipe towel
Handling Time:1 day