Welcome to Tsurugi Inc. Online Shop!
We can offer low prices and friendly customer service. All transaction are made via PayPal or Stripe, so we guarantee safe shopping experience with us. Please note, all prices are exclude shipping and handling. We do offer several shipping options, prices are calculated according to the cart weight and each product do have set weight.
For more information please check Shipping & Payment Info also please check Terms & Conditions.
---
Hikari Leather Cleaner
HEA007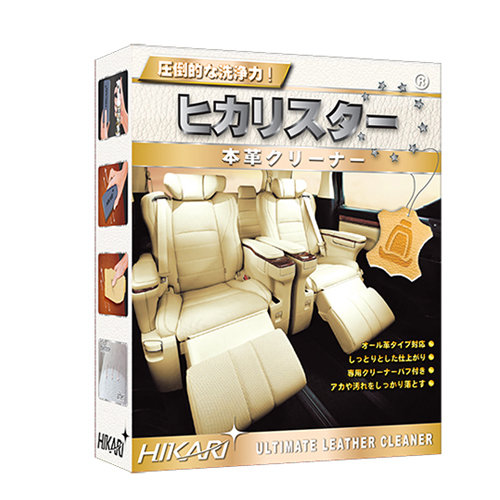 ---
Leather is a natural product, In Order to maintain the beauty of your upholstery it requires regular cleaning, which if neglected, may cause deterioration.
But as leather is a natural material, it is essential to maintain your upholstery using only natural products. Hikari PREMIM LEATHER CLEANER doesn't contain any abrasive detergents, furniture polish and solvents, petrol, gasoline white spirits. HIKARI LEATHER gives and keeps your LEATHER Interior IMPRESSIVE APPEARANCE and doesn't Lead to the leather deterioration.
Special Features:
Gentle and overwhelming speed cleaning power!
Moist and Clean finish!
Easily returns your leather upholstery to its original beauty!
Easy and Speedy Stubborn Leather Dirt Removal!
Suitable for All leather Types!
Includes a Special Patented Cleaning Buff!
HIKARI PREMIUM LEATHER CLEANER - CARE OF YOUR LUXURY LEAHTER UPHOLSTERY!
Easy to use
Spray the leather seat area and wait a few seconds for the dirt to come off (30 sec).
Using the sponge, scrub the sprayed area to remove the dirt.
Finally clean and dry the area by wiping with a small towel.
Product Region:Japan
Handling Time:3 days